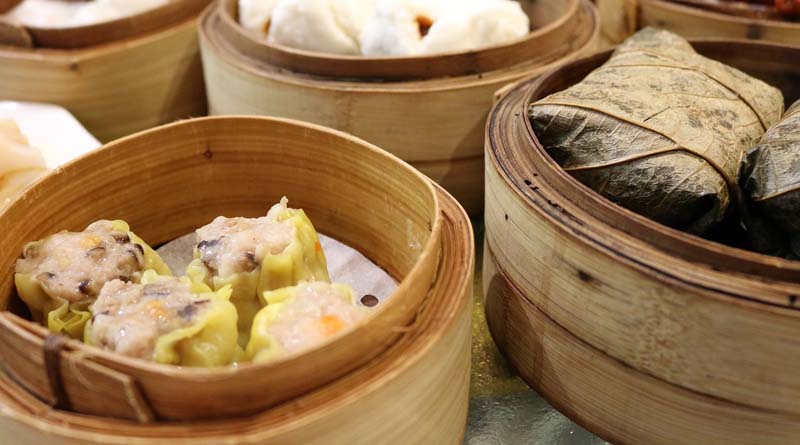 10 Special Foods in Hong Kong You Must Try
July 8, 2019
Dim Sum steaming baskets, roasted goose with crispy skin and noodle bowls…You may have heard of these foods when people talk about Hong Kong. But, they are only a tiny portion of everything that the old British colony reserved for gourmands. Between Chinese and British influences and gastronomic curiosities from its unique history, Hong Kong cuisine never ceases to amaze the palate!
In Hong Kong, you can eat at almost every corner. In tiny, crowded, popular restaurants, establishments that serve specialties from all over the world, shopping center chains, food courts (large open spaces that bring together many "stands" that offer different cuisines), or directly on the street.
Following are the 10 amazing foods (among many others) you should not miss during your trip to Hong Kong.
1. The Dim Sum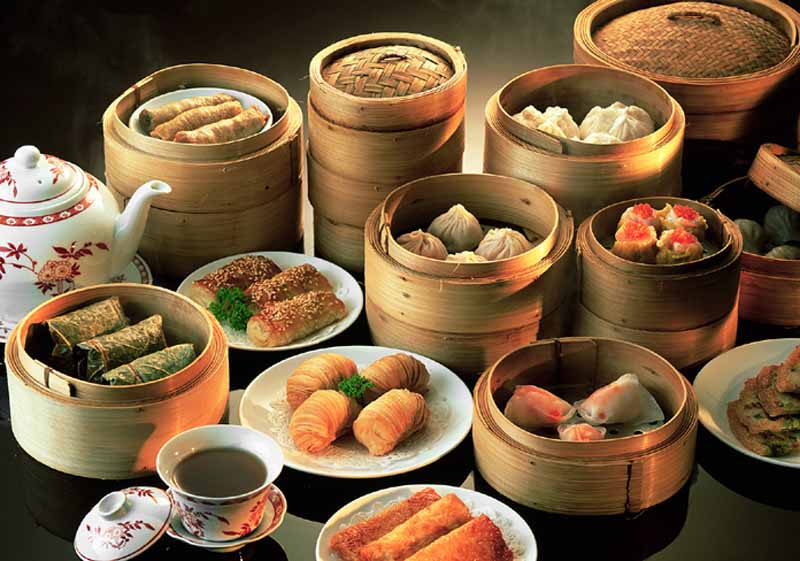 It must start there because it is still a must! We could devote whole articles to this specialty. The term "dim sum" does not refer to a specific dish but a set of specialties, often presented as bites and steamed. From the ethymological point of view, the word means "to touch the heart" or "heart with little touch" and, believe me, it will indeed touch the heart of every greedy self-respecting!
Eating dim sum is called "yum cha" in Cantonese, which also means…drinking tea. In fact, dim sum is traditionally savored alongside tea rather than as a main meal.
In dim sum restaurants, the menu will usually be presented as a list and you will be prompted to indicate the desired food and quantity. You can also opt for bamboo baskets already filled with dim sum that are presented on trolleys.
It is impossible to describe in this article all dim sum varieties that you can test in Hong Kong. Some come in the form of "ravioli", others in the form of stuffed buns or thin stuffed crepes.
2. The pineapple bun and other rolls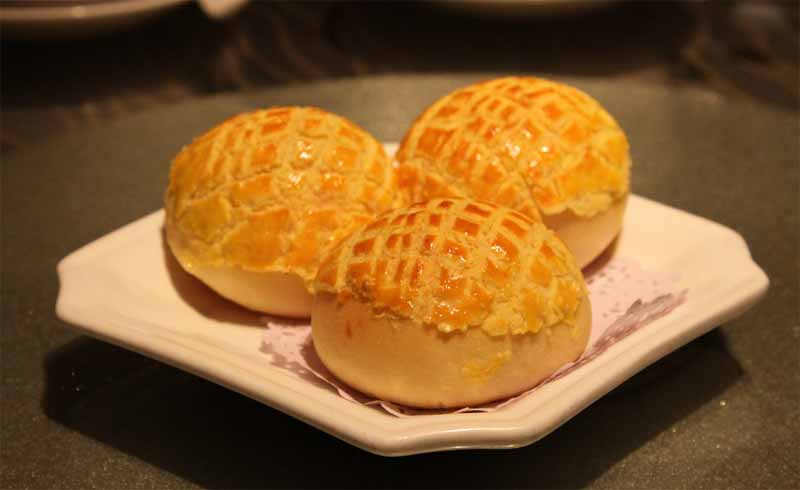 You will see these rolls enthroned on small displays in the streets, in front of restaurants in Hong Kong! The classic pineapple bun but also the BBQ Pork Bun, the beef bun and other variants…Ideal for a quick breakfast or to calm a little hunger, delicious when they are still hot and come out just from the oven!
Not a fan of pineapple? That's good, the pineapple bun or "Bolo Bao" does not contain a gram. In fact, it takes its name from the geometric shape of its crispy crust, composed by a mixture of sugar and egg.
3. The Siu Mei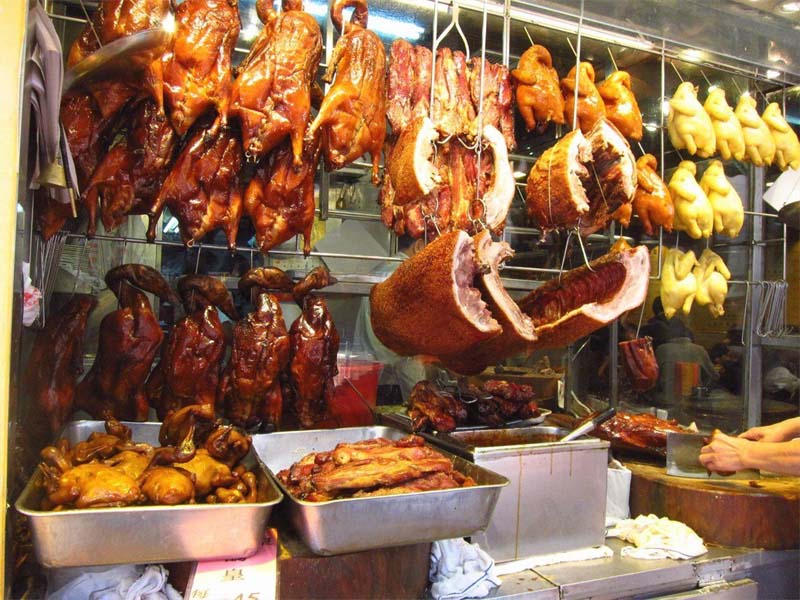 Impossible to walk in Hong Kong without having the look (and the nose) attracted by these windows where hang geese, ducks and other roasted lacquered meats! In Hong Kong, do not joke when it comes to grilling meat! It is first spiced with love, lacquered and prepared. It arrives on your plate with crispy skin, usually accompanied by rice.
Personally, my favorite goes to the grilled goose!
Note that in some establishments, you can also taste these meats steamed. Very good too but I prefer the crunchy BBQ!
4. The Hong Kong waffle or "Gai daan tsai"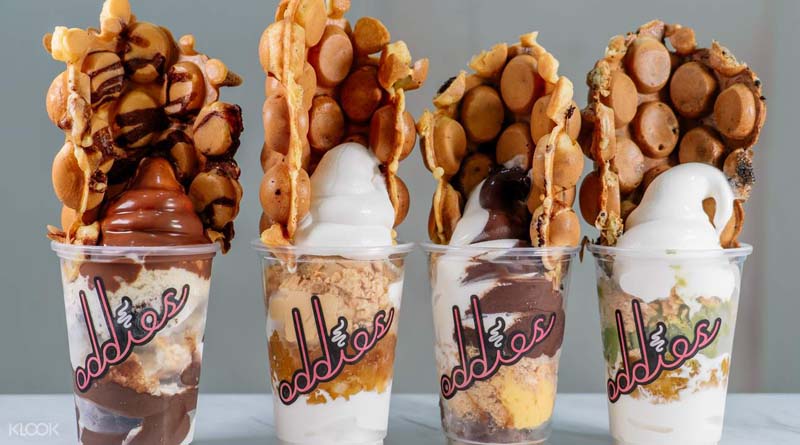 Nothing tickles the curiosity of gourmet travelers more than tasting a new type of waffle! The waffle of Hong Kong is immediately recognizable by its characteristic shape of small "balls" connected to each other by a thin layer of dough. The exterior is deliciously crisp while the interior is warm, mellow and light. Attention, this product can quickly become an addiction!
You'll find it all over the streets of Hong Kong, but if you're really greedy and have no qualms, we recommend that you stop at Oddies Foodies to enjoy a Hong Kong waffle accompanied by ice cream.
5. The noodles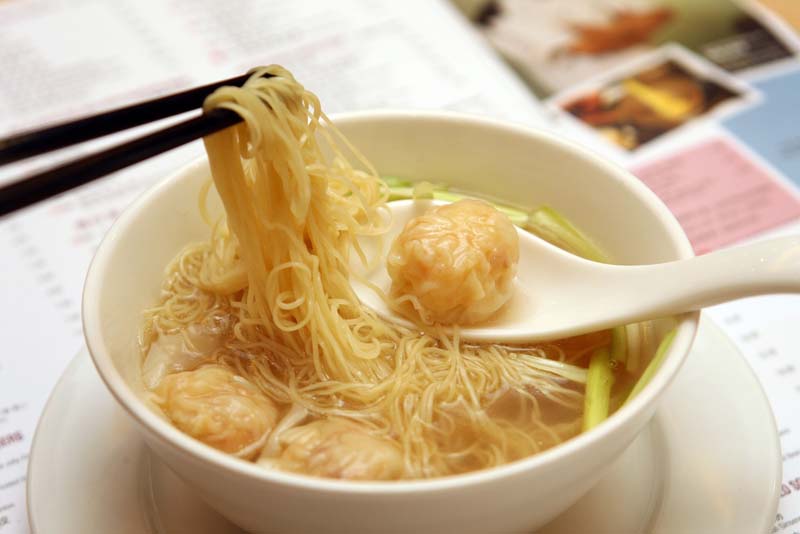 I love noodles. In Hong Kong, you can of course enjoy all kinds of dishes with noodles. From all I've tasted, I have fond memories of a delicious shrimp noodle and wonton soup.
Another curiosity to try: dried prawn egg noodles, a traditional Cantonese dish with special flavors unlike any other.
6. The breakfast soup…with macaroni
Probably one of the most delicious things in the world: I introduce you to macaroni soup and ham. Why? I've no idea. Still, this dish has become a classic breakfast popular in Hong Kong. Actually, there is nothing very special: it is a broth, with pieces of ham and macaroni. But you must try.
7. Cheung Fun or Chee Cheong Fun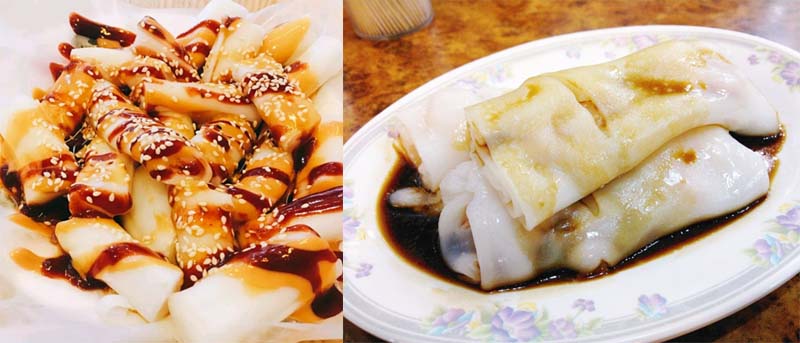 These steamed rice dough rolls are usually eaten for breakfast (in a neutral version) and are sometimes also part of the dim sum menus (packed version). They are often served with toothpicks (seen as they slide, it would be complicated to eat them with chopsticks).
In themselves, they have relatively little taste. They are accompanied by a sauce (sweet soy sauce, spicy sauce…) and sesame seeds.
Chee Cheong Fun name means "pork intestine noodle". Rest assured, it is to its appearance and not to its composition that this specialty owes its name. Enjoy your meal!
8. Hong Kong Toast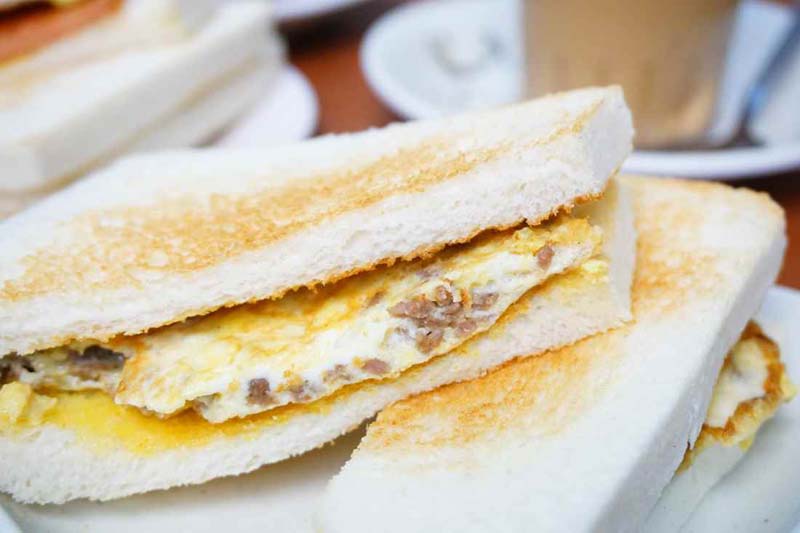 Forget the classic French toast, the Hong Kong French Toast will reveal a whole new dimension of this gourmet preparation. Already, Hong Kong's French toast is twice as big as a normal French toast because it consists of two slices of bread sandwiched together by the egg and milk. Then it is served with a piece of butter and syrup (or condensed milk) placed on top. And finally, by cutting, we discover in the middle…a layer of peanut butter.
9. Fish balls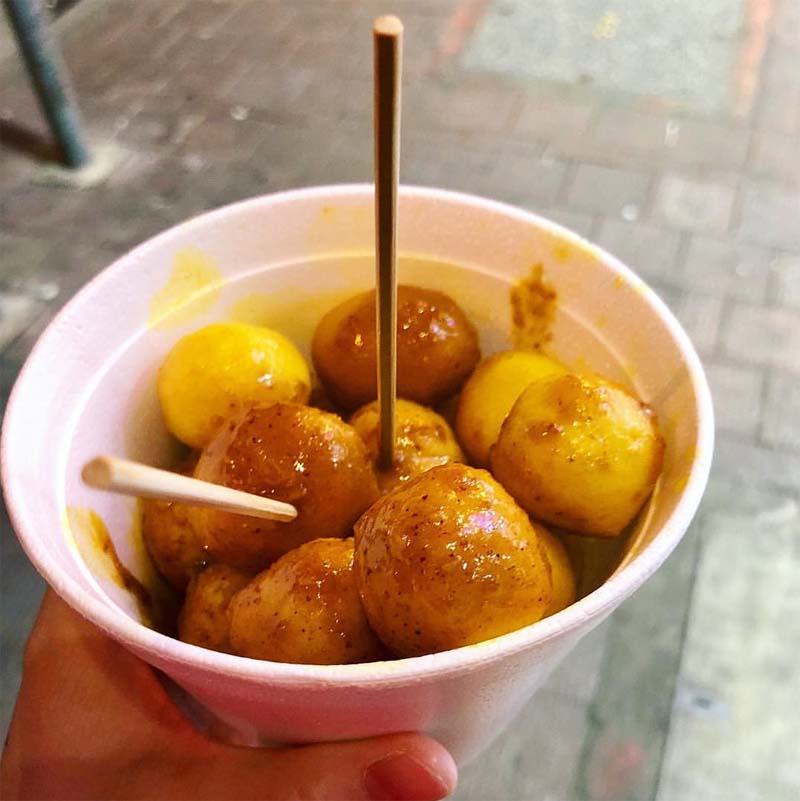 Served as a street food "skewer" or in a noodle soup, fried in oil or cooked in a broth, fish balls are a classic of Hong Kong cuisine. They are sometimes prepared in a curry sauce usually very spicy (like to anesthetize your lips for a few minutes)!
The texture of these balls is very special: they are perfectly smooth and elastic, without any piece. This is due to the way the fish is first made into a kind of dough before being pelletized.
10. Yuan yang and milk tea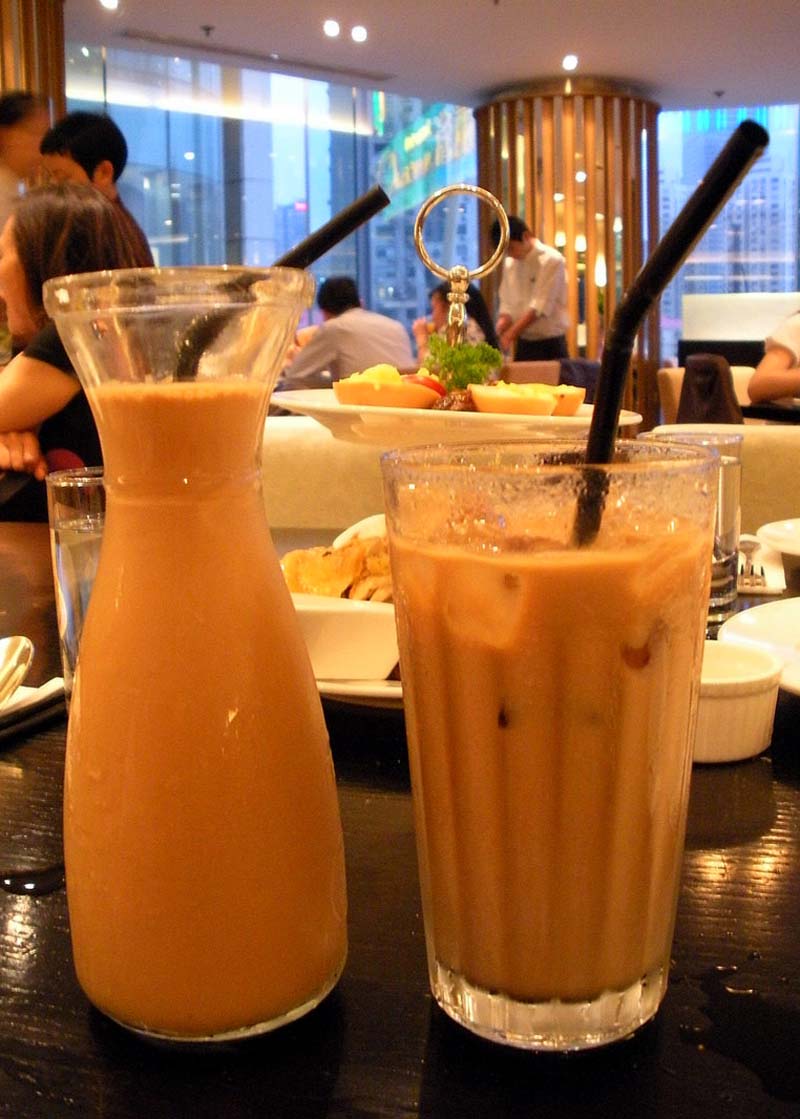 You know the famous Chinese tasting tea, of course. Pu-erh, white tea, oolong…But the tea consumed by locals to accompany their meal is the milk tea, a legacy of the past of English colony Hong Kong. It is made from very strong black tea and condensed milk.
A step further in the exotic, there is the yuan yang mix of…milk tea and coffee. We let you make your own opinion …