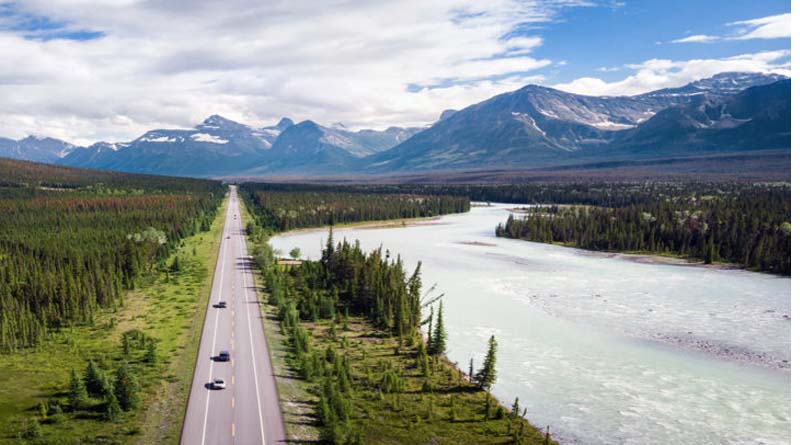 11 Routes in Canada You Should Discover
May 8, 2019
If you go on a trip to Canada, you don't need to fly to distant lands to marvel at magical landscapes. The crossing of the country offers a lot of magnificent roads with a grandiose panorama. More than the destination, it's the way to get there that becomes a real attraction. From Alberta to Quebec to Ontario to British Columbia, discover kilometers of escape and breathtaking expanses.
1. YELLOWHEAD HIGHWAY
Provinces crossed: Manitoba, Saskatchewan, Alberta and British Columbia
Length: 2,859 kilometers
The Yellowhead Highway is nearly 3,000 km long and crosses four provinces from east to west, connecting Winnipeg to Graham Island. For hundreds of kilometers, discover magnificent 360-degree landscapes. There are many stops to make because the entire route is beautiful. It is often said that doing the Yellowhead Road is like walking from park to park. In fact, you will pass no less than 90 provincial, national parks and historic sites.
The fauna is varied and very abundant, keep your camera at your fingertips!
2. ROUTE 93
Province crossed: Alberta
Length: 229 km
Also known as the Icefields Parkway for its 100 ice fields, Highway 93 is known as one of the most scenic routes in the world connecting Lake Louise and Jasper. Throughout its 229 kilometers, it unfolds a wild and authentic landscape: snowy mountains and indomitable rivers. Its unusual nature and the many wild species that populate the area make Route 93 a must-see for outdoor enthusiasts. It is indeed easy to walk long hours by crossing only mouflons or deer on its way.
Canada's immense and elusive reputation makes perfect sense here. Stay always on your guard, because it is not uncommon to cross a black bear or a grizzly bear.
3. ROUTE 430
Province: Newfoundland and Labrador
Length: 147 km
Less known, but undoubtedly to discover, Route 330 begins in Gander and ends in Wesleyville. Along the coast, the landscapes are breathtaking. Take the time to stop at Gros Morne National Park and L'Anse aux Meadows National Historic Site: both sites are UNESCO World Heritage Sites and worth visiting. You will discover a contrasting landscape of beaches, a peat bog and majestic forests. If you're a fan of hiking, explore the site on foot in the highlands: you'll surely encounter Arctic hares or caribou and moose.
4. THE ROUTE OF WHALES
Province: Quebec
Length: 1,730 kilometers
If you ask a Quebecker the road to discover in Quebec, he/she will probably talk to you about the Whale Route. This road, which is part of Route 138 and connects Tadoussac to Blanc-Sablon, crosses more than a dozen coastal towns, many of which are part of the Saguenay-St. Lawrence Marine Park. You can go whale watching and even boat trips to see cetaceans more closely. The whale ballet is a breathtaking sight, to live at least once in your life. For people wanting to live an exceptional experience, many companies in the region offer to go on the sea in a kayak, chills guaranteed!
5. GEORGIAN BAY
Province: Ontario
Length: 1,050 km
Plan to make multiple stops along this route, as the landscapes are magical: cliffs that plunge into the turquoise waters, beaches among the longest in the country, but also deer and ospreys. Prepare to be amazed. Georgian Bay offers many treasures including the 30,000 Parry Sound islands, which can be visited by canoe or kayak. If you like unique experiences, from Tobermory, you can go on an excursion to Flowerpot Island: the boat has a glass bottom that will allow you to see the wrecks at the bottom of the water. Unique!
Of course, do not leave the bay until you've walked the 11-kilometer stretch of Sauble's golden sand near Lake Huron-it's one of Ontarians' great prides.
6. ROUTE 99
Province: British Columbia
Length: 377 km
Highway 99 is the only way to reach Whistler from Vancouver on the west coast of Canada. It runs along Howe Sound and runs from the sea to the Whistler Mountains, hence its nickname Sea to Sky Highway. The landscapes are unique: abundant forests, crystal clear waters and grandiose waterfalls. The majesty of the western territories is reflected in the landscapes of Route 99, as it passes through different climatic zones, which offers very contrasting landscapes. Caution and patience are required during your trip, as the Sea to Sky Highway is a mountain road where weather conditions can change quickly.
7. DEMPSTER HIGHWAY
Provinces: Yukon and Northwest Territories
Length: 740 km
Whether in summer, winter, fall or spring, words are lacking to describe the views of the visitor on this scenic route straddling two provinces. The Dempster Highway crosses the Arctic Circle and was mainly built on old dog sled trails, which says a lot about the nature of its landscapes: the lands are burned by the cold and the dizzying mountain ranges seem to touch the sky. Tsiigehtchic, at the confluence of the Mackenzie River and the Arctic Red River, offers a magnificent panorama of rivers and a ferry service to cross. It is possible to leave for a short excursion by ferry and to breathe fresh air like nowhere else. It is also possible to paddle and fish on beautiful Lake Campbell.
8. ALASKA HIGHWAY
Provinces: British Columbia to Alaska
Length: 2,232 km
On the list of many adventurers, this scenic drive is without a doubt the most spectacular way to reach Alaska by Canada. Wilderness, inhospitable landscapes and sometimes extreme conditions await you. The Alaska Highway is a journey in itself. Although the route is open all year, most travelers prefer to leave between May and September, because the climate is milder and the road more pleasant. You will not see much civilization along the road, because the territory is almost desert, but the fauna is particularly interesting. In the middle of large snowy expanses and spruce forests, you will meet local people: bears, eagles, caribou, moose or bison. It's a trip to prepare well, because the hotels and restaurants are few,
9. THE CABOT TRACK
Province: Nova Scotia
Length: 297 km
Looping around Cape Breton Island in Nova Scotia, the Cabot Trail offers a splendid view of Canada's finest maritime jewels.
To the north, it borders Cape Breton Highlands National Park. Reminiscent of Scotland, its lush green hills, canyons and coastal cliffs create breathtaking scenery for hikers, kayakers and even whale-watchers. Do not miss the incredible view from the Skyline Trail Lookout!
Beyond the park, the road invites to many haunting stops, such as picturesque lighthouses and colorful ports of small fishing villages. Some even offer boat trips to observe the puffins. Enjoy lobster dinner or take a break to play golf on one of the island's legendary courses.
10. ROUTE 132
Province: Quebec
Length: 1,612 km
The Navigators' Route is the longest road in Quebec, along the St. Lawrence River from the US border to the tip of the Gaspé Peninsula.
This road crosses three regions: Center-du-Québec, Chaudière-Appalaches and Bas-Saint-Laurent, allowing stops at historic ports and peaceful maritime villages. To make things easier, white rudder boards indicate where a stop is recommended; for example, an old lighthouse, shipwreck or gazebo with panoramic views.
The road culminates before the majestic Percé Rock, in Gaspésie, where you can breathe the ocean air, watch the waves break and perhaps see some whales.
11. ROUTE 17
Province: Ontario
Length: 1,964 km
When driving on Highway 17, the diverse landscapes of Ontario are a reminder of how vast Canada is. It's not for nothing that it's called the Trans-Canada. You can cross a good part of the country, and Ontario as a whole, only by driving on that road.
You will come across hidden cities in the Ottawa Valley before reaching the hilly landscape of the Canadian Shield. Next is Algoma County, an area bordering two Great Lakes, whose hills, forests and lakes have inspired many paintings of the Group of Seven. This is the perfect place for photographers and hobbyists alike. outdoors!
Follow the road to the Lake District and steep yourself in history in Sault Ste. Marie. Or head to Thunder Bay, a paradise for skiing, hiking, ice climbing, fishing and more. And be sure to take a picture of Terry Fox's monument while you're there!
And you, what road do you dream of crossing?