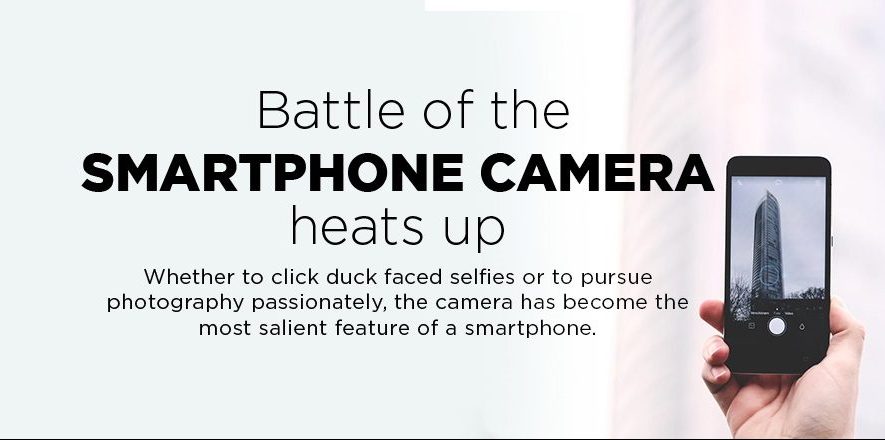 Battle of the Smartphone Camera Heats Up [Infographic]
January 5, 2018
Smartphones of today have become more like a statement. Today people are more concerned about the camera of a phone among the many parameters by which a phone is judged. We all look for a phone that has a mix of everything. From battery, to screen to the minutest detail like the color of a phone. Lately people want a camera which makes them look stunning. When there are too many options in the market then it becomes difficult for people to choose just one brand.

Image Source: Techiespad.com
Here we look forward to the USP of every brand and the way they are moving forward. To begin with Apple's latest offering, the iPhone 8. It is a great phone that has a mix of clutter free operating system merged with a stunning build quality. The latest iPhone has HDR mode by default which means when you will be clicking a new picture, the HDR mode will be applicable by default. Nothing is to be done manually. There are many other features that make the iPhone 8 a great choice. People generally talk about the vibrancy that the iphone brings in its pictures.
Next in the list is Google pixel. Google pixel is another flagship device from the house of Google. Google pixel can be used for clicking crispier images no matter what lighting conditions you have. Samsung Galaxy Note 8 is another great choice if you are someone who loves the innovative features that Samsung comes out with. Also Samsung makes the best phone when it comes to clicking pictures in low light. For people with bigger hands, the best phone is iphone 8 plus. The phone feels huge yet very compact. It has dual rear cameras which help in clicking pictures in portrait mode. Google's latest flagship device, called Pixel 2 is another great phone, it was in the news as it broke the highest record of DxO rating. The phone not only looks good but also feels different. Apart from that, there are two brands that have come up with really good phone lately. They are HTC with HTC U11 nd Huawei mate 10 Pro. Both these phones are well built and have a really good quality camera.
At the end of the day, it all ends up to you whether you wish to get a new phone with dual camera or you want a phone which click photos of a particular kind.