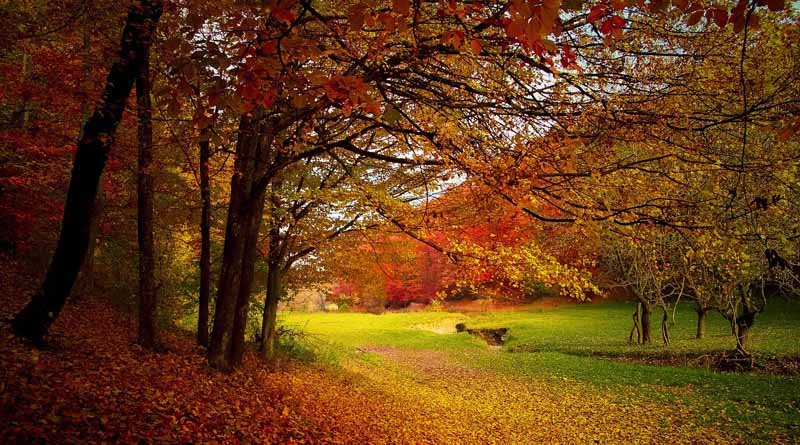 The 10 Best Fall Drives in Ontario
October 6, 2016
The 10 Best Fall Drives in Ontario
This is the best time of year to take a drive around Southern Ontario, to look at the changing colours of the leaves. But if you're going to head out, you might as well look for the best wooded driving roads, too. Here are nine recommendations for great roads, each one to two to a few hours of driving, on top of the approximate time needed to reach them from downtown Toronto. Oh, and one recommendation for visiting Kleinburg. It's not a great drive, but it's close and shouldn't be missed.
More: The top fall routes for two-wheelers
More: Drought may mute vibrancy of this autumn's leaf show
More: Riotous colours on the Rideau
Kleinburg (1 hour) Click here for map
The ideal quick jaunt if you're just getting out in the car, though driving won't be much fun because there's plenty of construction and commuting in the area. The best way to visit Kleinburg is to go straight to the McMichael Canadian Art Collection and compare the real trees with the painted trees of the Group of Seven. All that serenity and splendour will help keep you calm among the jostling minivans and F-150s.
Directions:
North up Hwy. 400, then west on Major Mackenzie Dr. for about five kilometres and then north on Islington Ave. into Kleinburg.
Campbellville and Kilbride (1 hour)  Click here for map
Another quick and simple drive from the city — lots of people commute from Milton and Campbellville every day. There are five regional parks in the area and they'll be full on the weekend, but if you drive in from Toronto on the 401, you'll see the first true tapestry of leaves just south of the highway at the Kelso ski hill. At Kilbride, look for the farmhouse driveway that was the scene of Microsoft's iconic fall wallpaper several years ago (Hint: it's on 8th Sideroad)
Directions:
Take Hwy. 401 west to Exit 312 at Campbellville and drive south on Guelph Line through town. After about two km, head back east on Limestone Rd. to Appleby Line. Turn south on Appleby Line to follow the Escarpment, making sure to slow to a crawl for the slippery hairpin at Rattlesnake Point. Turn west at Derry Rd., then follow it all the way in to Kilbride.
Waterdown/Ancaster (1 hour)  Click here for map
While everyone is heading north to see leaves, you can drive southwest, too. From Waterdown just above Hamilton, aptly named Snake Rd. twists through some beautiful escarpment foliage, then you can continue on to Dundas (stop there for coffee or ice cream) and down into the most forested parts of Ancaster.
Directions:
At Waterdown on Hwy. 5, turn south on Main St. and follow the road until it turns into Snake Rd. — you'll know when you're on it. Be careful on this road — the turns sometimes are slippery with stones and sport bikers raise the anger of residents by riding too fast along it. At the end of Snake, follow the road north past the motel and over Hwy. 6 onto York Rd. Don't follow York all the way into Dundas, but turn north onto Valley Rd. and then south again on Rock Chapel Rd. This turns west and becomes Harvest Rd. Keep driving west till you reach Brock Rd. then follow Brock south down the hill into Dundas. Once in Dundas, find your way onto County Rd. 99 (known as Governors Rd.) and follow it west for about five km to Sulphur Springs Rd. Turn south onto Sulphur Springs and wind your way through to Ancaster, being sure to make a quick detour to Mineral Springs along the way.
Belfountain/Hockley Valley (1.5 hours)  Click here for map
This is the favourite short drive from Toronto, being an easy jump north of Brampton off Hwy. 10. If you visit on a weekend, be prepared to crawl among gawkers for seven kilometres along the length of the scenic Forks of the Credit Road, which is just as well because people will be parking everywhere and running across your path when you least expect it. Beat the crowds by visiting during the week — it's worth it to drive the narrow, winding scenic road beside the Credit River. And don't be tempted to speed along the Hockley Valley Road — the locals expect it and the O.P.P. will be waiting for you.
Directions:
Take Hwy. 10 north to the Forks of the Credit Rd. (about five km south of Caledon). Turn west and follow the Forks of the Credit and drive into Belfountain. From there, either return the way you came or take any roads north and east to rejoin Hwy. 10, then continue north past Orangeville for about four km, to turn east on Hockley Valley Rd. to Airport Rd. Stop here at the general store for a break before home.
Niagara Escarpment (1.5 hours)  Click here for map
You can look south from the QEW at the hillside of trees, or you can drive among them before dropping down through the quaint village of Jordan into St. Catherines. If you have the time, combine this drive with the drive from Waterdown and join it at Ancaster.
Directions:
Take the Centennial Parkway South from the QEW just east of Hamilton, and then turn east from it at King St. After just a kilometre, branch right onto New Mountain Rd., which becomes Ridge Rd. Follow Ridge to Thirty Rd, then turn north onto Thirty and down the escarpment for a kilometre before turning east again on King St. Follow King through the village of Jordan until it becomes St. Paul St. W, and just keep driving east all the way into St. Catharines.
Newcastle/Shelter Valley (1.5 hours)  Click here for map
Now that I live in Cobourg, this has become one of my favourite drives, following the north shore of Lake Ontario and dipping in and out through canopies of trees. You can see Shelter Valley Rd. curving north when you cross it on the 401 and it looks like a lovely drive — here's how to make the most of it.
Directions:
Take the 401 east to Exit 440 at Newcastle and then head south to find Lakeshore Rd. Follow Lakeshore east — don't mind the rickety bridge over the railway, it's been recently repaired and is stronger than it looks. This part of the road is also the Waterfront Trail. Drive through Port Granby and Port Britain to Port Hope, then join Hwy. 2 and follow it through town to Cobourg (great restaurants on a thriving Main Street) and on past Grafton for about a kilometre till you see the sign for Shelter Valley Rd. Drop down a gear and head north through the trees. At the end of Shelter Valley Rd., turn south on Hwy. 25 to end up at the Big Apple on the 401.
Collingwood/Creemore (2 hours)  Click here for map
If your time allows you to head farther north than Hockley Valley, or you want to just keep going after that drive, then it's a treat to visit the true farmland that spreads north to Owen Sound and the Bruce Peninsula. Roads are generally straight, flat and dull, but follow this route and you'll find some exceptions to make the journey worthwhile. You can drive either direction of course, but this starts in Collingwood because it's more impressive to drive up Blue Mountain than down.
Directions:
Follow the signs in Collingwood to the Blue Mountain ski resort (which can't be missed), and then the signs to Scenic Caves Rd., which will climb up past the ski hill on its way west. The road morphs into Sideroad 15 and Grey Rd. 119, before it joins County Rd. 13 and turns south. Turn back east again on 12th Conc. B, which becomes Grey Rd. 31, and follow it until you turn south on Grey Rd. 2. This is so that you can turn east on 10th Line and then enjoy the short stretch of River Rd. that leads south into Feversham. Once back on Grey Rd. 2 south, turn east on Grey Rd. 4 and then south on Hwy. 124 until you reach Grey Rd. 9 (notHwy. 9, which is farther south and runs between Orangeville and Arthur). Here, turn east and follow the road into Creemore, where you should stop to visit the excellent Creemore Springs Brewery. When you get home, the beer will taste all the better for having searched it out.
Muskoka: Bracebridge to Huntsville (2 hours)  Click here for map
Sure, you can just blast between the two towns on Hwy. 11, but it's much better at this time of year to take an extra hour and drive around the gorgeous Lake of Bays. You can't go wrong in cottage country, and the seasonal shopkeepers are staying open through this season to cater to the last of the visitors. Don't worry if you get lost on this drive — there'll be trees around every corner.
Directions:
From just north of Bracebridge, take Hwy. 117 east to Baysville and through to its end at Hwy. 35, where you turn north to join Hwy. 60 and drive through Dwight. If you don't have much time, you can just stay on 60 through Grasmere to Huntsville, but it's worth it to instead turn back south on Portage Rd. and stay close to the lake, trying not to be distracted by the colourful blanket of trees on the opposite shore. Stick with the lake until you reach Brunel Rd., where you should turn north and head up to Huntsville.
North of Kingston (3.5 hours)  Click here for map
This is the edge of the Canadian Shield, filled with fishing lakes, hard-fought farmers' fields and canopies of trees. You can drive out to Kingston on Hwy. 401 and then return to Toronto along the more relaxed Hwy. 7 to Peterborough, which is the old route to Ottawa and part of the Trans-Canada Highway. There are any number of worthwhile routes between Kingston and Hwy. 7, but this is my favourite because it includes the lovely road through Jones Falls and the chocolate-box town of Westport.
Directions:
Take Regional Rd. 11, known as the Battersea Rd., north out of Kingston (Exit 619 on the 401) and follow it all the way up until it passes through Jones Falls and joins Hwy 15. Here you'll turn north again until you reach the blink-and-you'll-miss-it community of Crosby. Don't follow the sign here to Perth on County Rd. 14, but turn west on County Rd. 42 so that you can visit Westport, dropping down from the hill to the picturesque little town that's backdropped by trees and Big Rideau Lake. Then head north-east on Scotch Line all the way to Perth and the Trans-Canada.
506 to Lanark and Carleton Place (5 hours)  Click here for map
It's not so far if you need to visit Ottawa for some reason, and even if you have to make up an excuse, it's worth it to emerge from the rocks and lakes of Plevna and Ompah (home of the Ompah Stomp) into the idyllic farmland of Lanark County. Drive this as an extension of the North of Kingston route if you have a whole day to get to or from Canada's capital — the leaves are already showing.
Directions:
Find your way to the intersection of Hwy. 41 (the road north from Napanee) and Hwy. 7, then follow 41 north to Cloyne, where you'll turn east onto Hwy. 506. Warning: this is a favourite of sport bike riders thanks to its tight turns, but the asphalt's bumpier than it used to be, which helps to keep their speeds down but doesn't help to keep them in their lane. Settle back and enjoy the ride. At Snow Road Station, turn east onto Hwy. 36, then east again at Elphin onto Hwy. 12, which is the road to McDonald's Corners. This is where you leave the tight twists of rock country and enjoy the sweeping curves of arable farmland. Stay on 12 all the way through Lanark (though you should stop in town for maple syrup) before finally turning east on Ferguson Falls Rd. to take you to the Trans-Canada at Hwy. 7.